Today we would take you to travel at "Pig Island" new unseen attraction in Thailand. This trip we will travel from Koh Samui by Thai traditional long tail boat to Koh Tan and Koh Mudsum where are the secret paradise islands in the south part of Koh Samui
If you heard about Pig Island, it is a new trend calling, actually the real name is "Koh Mudsum" where located next to Koh Tan and Five Islands. Originally, Samui local people go to this island for fishing and picnic with friends and families on the weekend. Later on, there are some tourists go to visit the island for relaxing and someone brough the pigs to take care on the island. After that, once tourists come over to visit Koh Mudsum and see all cuties pigs stay on the beach, feeding and playing with them are created to be a new activity and became very popular destination for both of Thai and foreigners' tourists.
Traveling to Koh Mudsum (Pig Island), you have the option of taking the speed boat or long tail boat from Thong Krut pier. Booking one day trip included the pick up services is the easiest way and save your holiday's time. However, today we want to create our own programs and manage the time by ourselves, thus we make a decision to take the private boat just for our group and go by long tail boat that could be cool.
We rent a car and drive to the pier, after preparing our snacks, lunch box, and some drinks, then start moving from the hotel about 08:30 am. Driving to the pier is very easy, just type the word of "Thong Krut Pier" on the Google Map and follow the GPS, takes about 45 minutes ride from Chaweng beach and it's a good departure time as there are not much traffic in the morning.
Arrive to the pier, then we take the long tail boat about 15 minutes to the first spot for snorkeling around Koh Tan. Get nice shots during journey on this unique boat and sightseeing around that you can see other small islands and a lot of the fisherman boats from local people go out for catching the fishes and other seafood.
We got clear sky and crystal blue water on the traveling date, so we can see a lot of beautiful fishes and coral reefs that made us having a wonderful snorkeling, spent time about an hour here before heading for another 5 minutes to reach the Pig Island. Captain told us that there are more fishes at another side of Koh Tan, so you can go there for fishing. But, we didn't make it because our main target is visiting the cuties pigs and spending a lovely time with them.
Before arrive to Koh Mudsum, you would see the long white sandy beach of the island that you can have the feeling of real relaxing time (Can't explain it enough till you come to touch by yourself). Arrive to the island, you can have something to eat or drink at the restaurant located on the beach or keep your memory with a nice photo with small beautiful Island's sign that makes from wood and sea shells.
We arrived to Koh Mudsum in the midday and it was really warm weather, so we could see about 7-8 pigs stayed in the shade around restaurant. They may get tired from the heat and need to take a rest in the afternoon, however if they see food in your hands, their noses would automatically work and come up with full energy to walk follow you. All of them are very friendly and get used to with people, so you can feed and play with them if you want.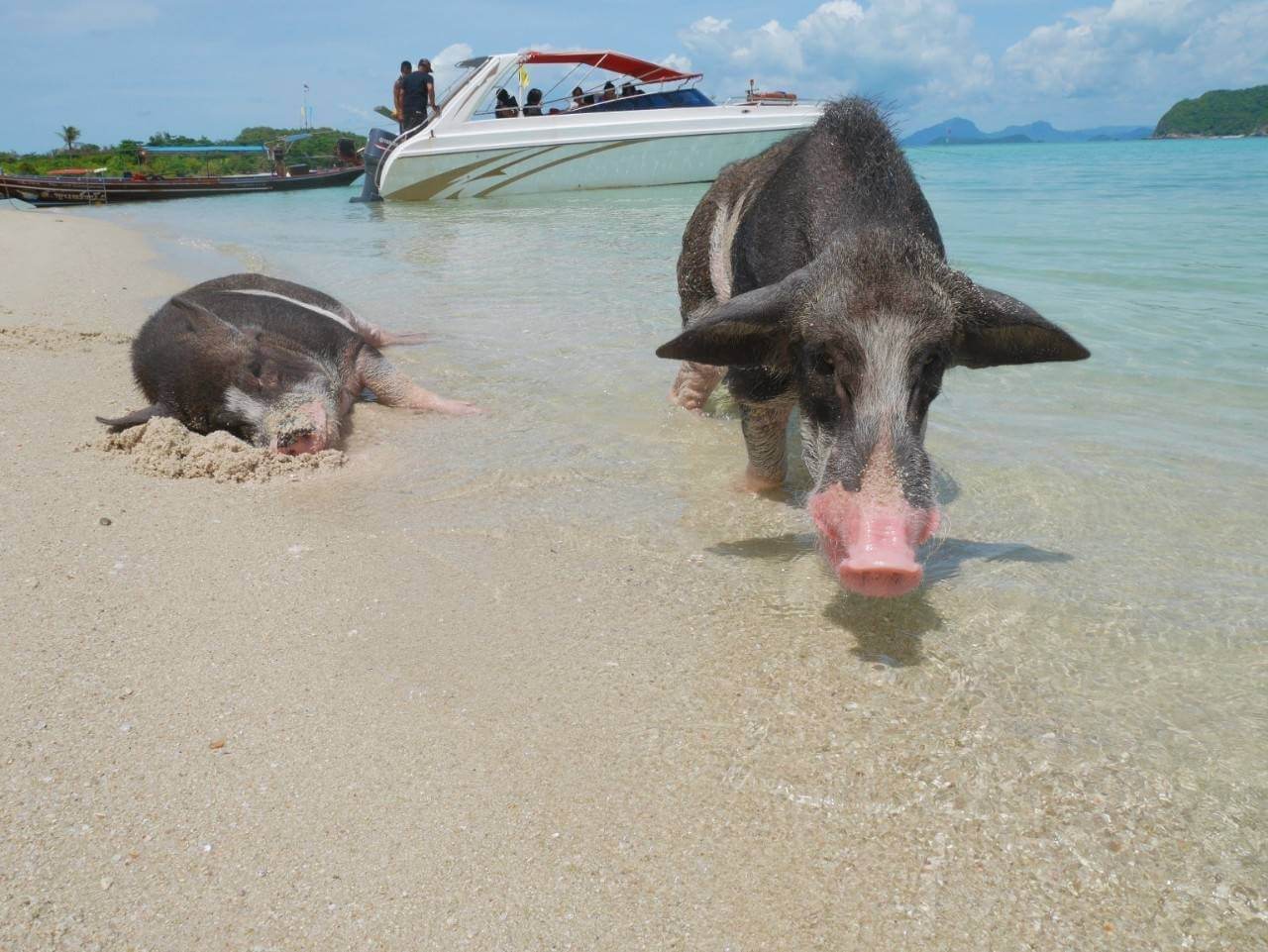 The cuties pigs will walk to the beach once the weather's fine in very late afternoon for having a bath in the natural jacuzzi, laying down and walking on the beach to make their bodies cool down from a sunny day. We spent quite a long time to get nice photos when they are staying on the beach and we can say they made our days.
They also have day beds for sunbathing that you can use them with free of charge, order some drinks from the restaurant and relax on the beach would be such a wonderful day.
After getting nice shots with all piggy, then we spent the rest of the day to walk around this charming little island. What we found is real relaxing time and feel like stayed in another world that no have any rush and noisy. The beach here is cleaned and cleared water with fresh air. We charged full of energy from this paradise island.
Another fun activity that you can do on your visiting to Pig Island is "Kayaking". If you book the trip with full option, they will have it included or not you can contact people at the restaurant and pay additional directly. We had no time to do it, but we will come back to have fun with this activity next time for sure.
Full pack of fun and happiness till the ending time to say good bye and leave this amazing island. We have such a great day traveling, thank you to our captain who brings us to the places nice and safe, big thanks to all piggy that makes us laugh and happy from their nature innocent, and the last thing be thankful to the beautiful nature that it is created a wonderful island and give us a chance to release our stress and have a real relaxing time, nature itself also tells us how to keep the life balance.